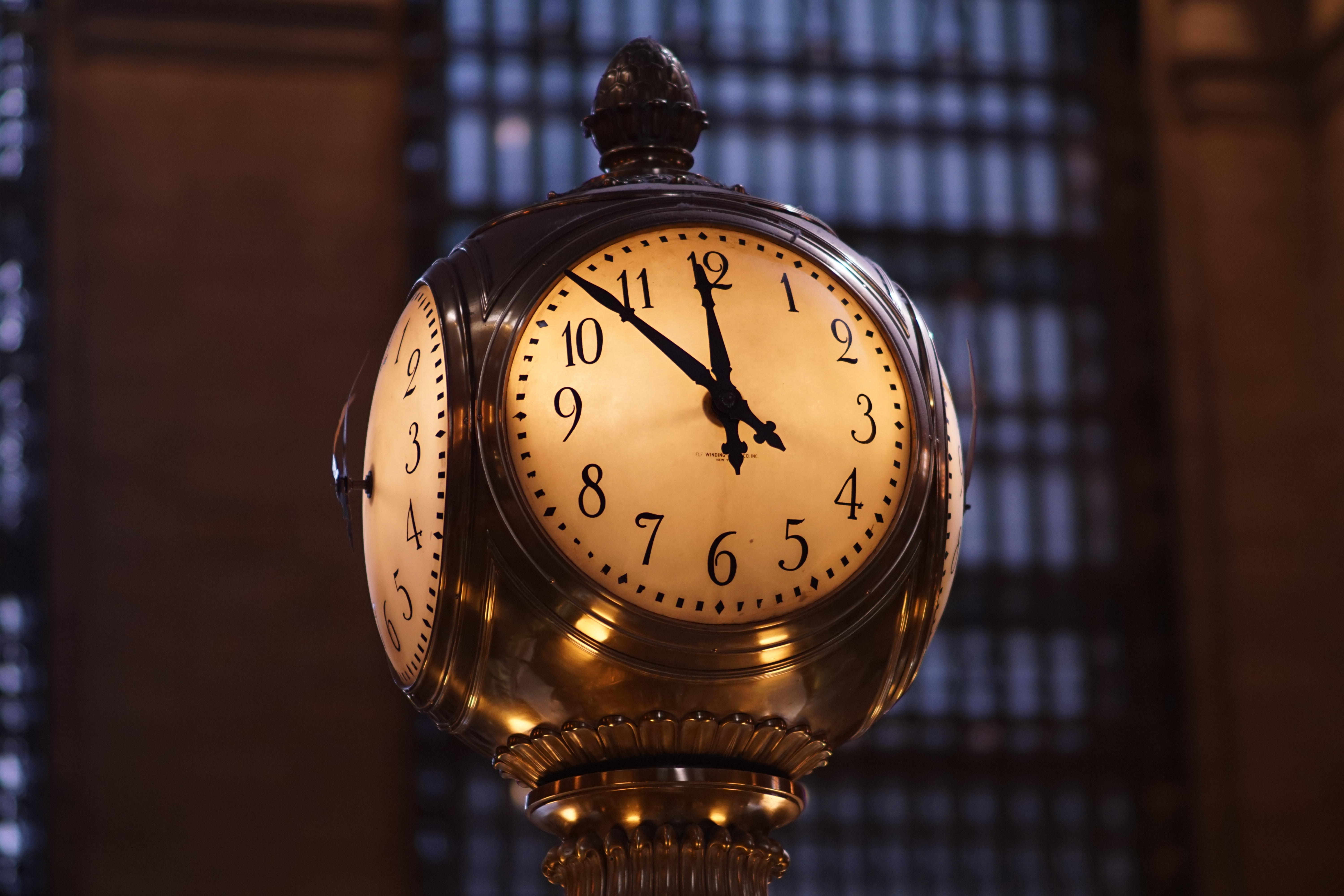 Board Meeting Minutes Template and Best Practices
As commonplace as it is for board secretaries to take the minutes of a meeting, it may surprise you to learn that boards of directors are not legally required to take minutes at all. Taking minutes with board meeting software has become a best practice for a lot of good governance reasons.
Printable Template for Board Meeting Minutes
Members of organizations are entitled to obtain certain corporate records like financial reports and meeting minutes. More importantly, board directors have legal and fiduciary duties, so it's important to have a record of the actions that the board took during meetings.
In addition, the minutes of board meetings serve as guidance for the board as they plan and make strategic decisions. Taking board meeting minutes using a specified format and template also serves as legal protection for the board and the organization.
Download our Board of Directors Meeting Minutes Template!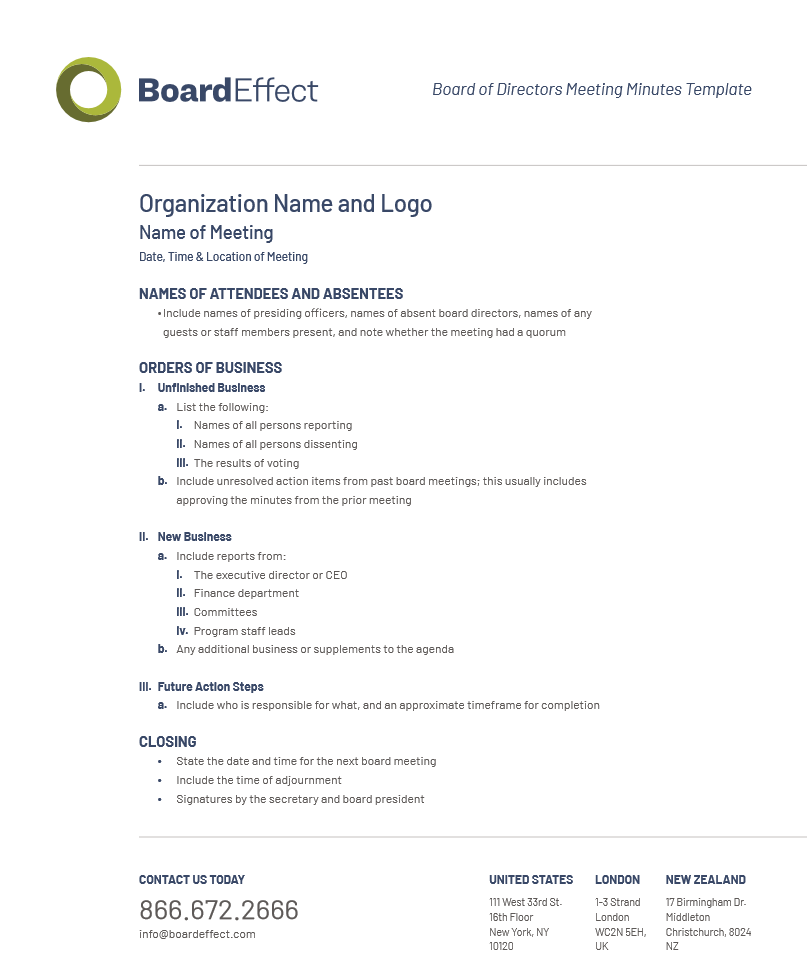 Need a PDF or printable nonprofit board meeting template to share with colleagues?
What Information Do Board Secretaries Need to Record?
The best source that board secretaries can use as a guide for recording board minutes is Robert's Rules of Order.
Board minutes should include an overview of what took place at the meeting, without being overly wordy. The board secretary should document the date, time and location of the meeting and whether it was a regular or a special meeting.
The minutes should also include a list of the presiding officer, directors, staff, guests and any other attendees. It's not necessary to designate the percentage of present members constituting a quorum. The secretary only needs to document whether a quorum does or does not exist.
The minutes should include a statement of whether the minutes of the previous meeting were read and approved. The most important part of the minutes is documenting an accurate statement of any actions that board members took during the meeting.
Board Meeting Minutes: What Not to Record
It's essential for board secretaries to understand that taking minutes is not the equivalent of recording discussions verbatim. Not only does that make the secretary's job tough, most legal representatives advise against it.
Board meeting minutes should not read like a manuscript. Instead, they should serve as an accurate and general record of board actions. Board minutes should reflect the name of the members that make and second a motion. Regarding ensuing discussions, minutes should include the major arguments for or against the motion, without naming names. Including too much information in the board minutes could cause board members to hold back on free-flowing ideas during board discussions.
There is a legal risk to including too much information in board minutes. Board secretaries should be aware that board minutes serve as a legal record and may be used in a court of law. Discussions and direct quotes by board members could be misinterpreted by courts many years down the line, when board members may have forgotten the context in which they spoke. Lawyers will examine board minutes to look for the opposing side's weaknesses. Statements in the minutes may be taken out of context in ways that could harm an organization's reputation or create undue legal liability.
Nonprofit organizations should take note of D.C. Code §29-406.24, which states that it is presumed that all board members consent to the actions their boards take. For this reason, board secretaries should note in the minutes that a member or members objected to an action taken by a vote of the full board.
What Are Best Practices for Board Meeting Minutes?
The exact format of board meeting minutes varies by the organization, although best practices for governance indicate that all meeting minutes should contain some basic information. Best practices also encourage boards to be consistent in their method of reporting so that the information is reliable.
Board minutes should carefully document any decisions the board made, along with any next steps. The minutes also serve as an official record for identifying and tracking action items.
Statements should be short and succinct. At a minimum, minutes should include the following information:
Date, time and location
Time the meeting was called to order and adjourned
Names of attendees and absentees
Corrections and amendments to previous meeting minutes
Additions to agenda
Status of quorum
Motions taken or rescinded
Voting that there was motion and second, along with the voting outcome
Actions agreed to be taken
New business
Open discussion and participation
Date and time for the next meeting
The board secretary plays a crucial role in recording board minutes. For this reason, it's important for board secretaries to do more than show up at a meeting with pen and paper. A little planning on the part of the secretary, including using a template for board meeting minutes, will make the job much easier.
Preparation for Board Secretaries: Using a Board Meeting Template
The board secretary and board president should come to an agreement about what needs to be included in the board minutes. They should also come to an agreement about what should not be recorded to protect the board and its directors from legal liabilities.
Board secretaries can prepare for meetings by reviewing formats of past meeting minutes and using templates for sample board meeting minutes. Templates will have areas to fill in pertinent information such as the date, time and regular agenda items, with flexibility for adding new items. It helps to review formats for board meeting minutes that other organizations have used successfully.
Prior to each meeting, the board secretary will need to obtain information from the board president about attendees, guests, and any speakers or special presentations. The secretary will also want to review the past meeting's minutes and gather any documents for the meeting. Finally, the secretary will work with the board president to set and solidify the agenda.
Some Final Words About Board Minutes
Templates and formats are essential tools for board secretaries. Why not use them to take much of the work out of recording board minutes? A good rule of thumb for minute takers is to record a statement for every board action to avoid being overly wordy.
Hopefully, your board minutes will never be presented as evidence in a court of law. If they are, however, using these tools, your board can rest assured that the minutes accurately reflect board business.