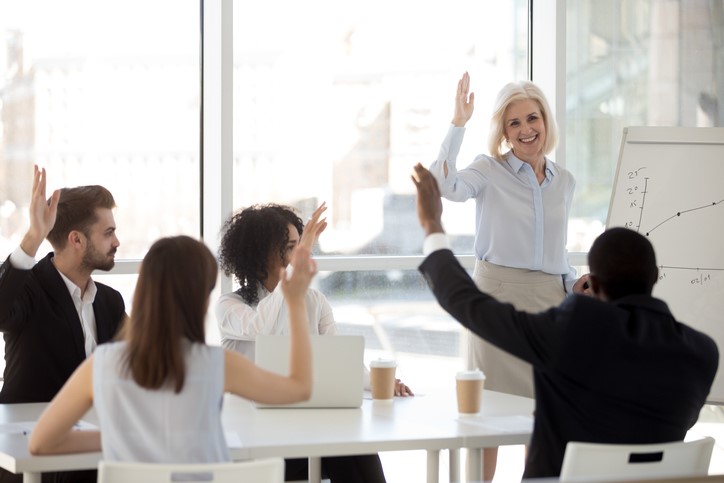 How to Define Board Engagement
Board engagement is essential to the health of every organization because it enhances the way the board functions. Engaged boards will naturally improve their social dynamics. As boards collaborate, work together and spend time together, they will inherently improve trust within the board. Despite the importance of board engagement in the governance realm, the definition of board engagement remains obscure in many respects. Measuring board engagement is even more difficult.
It's worthwhile for boards to have discussions about how to more accurately define board engagement because having an understanding of the term will likely bring them closer to enhancing their own participation on the board. In the best-case scenario, greater participation on the board will become contagious. Full board engagement will lead to long-term success and sustainability.
Defining Board Engagement
When a word or phrase is difficult to define, it's helpful to look at several definitions to get the scope of the true meaning.
If we start with the Merriam-Webster definition of engage, it means, "to take part in something" or "to give attention to something."
To give this definition a little better context, the Business Dictionary defines engagement as an "Emotional connection an employee feels toward his or her employment organization, which tends to influence his or her behaviors and level of effort in work-related activities."
Investopedia defines engagement slightly differently: "A business management concept that describes the level of enthusiasm and dedication a worker feels toward his/her job. Engaged employees care about their work and about the performance of the company and feel that their efforts make a difference."
Charles Dahan, a research fellow and Ph.D. candidate at the University of Florida, who specializes in behavioral psychology, offers his definition of engagement as: "A relationship between an organization and individuals, measured by the investment individuals make to strengthen the organization, ensure its long-term viability, increase positive sentiment, and progressively increase future investment." Dahan has broken the topic of engagement down to three specific types — psychological engagement, professional engagement and tangible investment.
Let's look at some of the components and shared definitions that go into engagement as it relates to board director engagement:
To participate
To give attention to, to care about it
To have an emotional connection
To have a level of enthusiasm and dedication
Requires a relationship or connection
The time, attention, emotional connection, enthusiasm, dedication and relationship create an emotional investment that:
Influences effort and behavior toward work-related activities
Makes individuals feel that their efforts make a difference
Can be measured by the investment individuals make in the organization
A positive level of board director engagement results in:
Long-term viability
Increased positivity
Progressively increased future investment
Exploring Three Types of Engagement
According to Charles Dahan, we need to look at three types of board director engagement if we want to maximize board potential — psychological engagement, professional engagement and tangible engagement.
Psychological Engagement
Psychological engagement is the relationship that board directors perceive to have with their organization. Some of the various definitions speak to giving their attention to something, caring about it, being dedicated to it and feeling an emotional connection to it. These words and phrases indicate a sense of warmth and closeness that translate to a sense of loyalty and commitment to the organization. Dahan notes that increased psychological engagement increases the likelihood that board directors will make tangible investments in the organization and be more willing to forgive missteps and transgressions.
Boards can measure the level of psychological engagement by the amount of time and resources that boards commit to their duties.
Professional Engagement
Professional engagement has a two-fold benefit for board directors. The education, development and skills that they learn during their service to the board are marketable skills that will no doubt help them in their careers. Participation in group learning activities such as conferences, leadership groups, networking, groups and mentoring partnerships offer valuable learning opportunities in the professional world and in the boardroom.
Less active members may be contributing to an organization financially or by bringing in their business network connections. Board members that fall into this description may be encouraged to increase their engagement in tangible ways.
Tangible Engagement
A strong psychological investment should translate into positive behavior. The caveat comes when board directors have an obvious psychological investment, warm feelings and a strong sense of loyalty to the organization, but the mental and emotional engagement doesn't translate into tangible engagement.
The key to maximizing board director potential is to help transform psychological engagement into long-term, positive, tangible behavior. Connecting psychological, professional and tangible behavior is a good way to measure overall board director involvement and engagement.
Board management software provides a tangible way for boards to measure the performance and investment of time and resources that individual board directors contribute to their boards. For example, board portal software tracks board director log-in times so that the board can track how often board directors log into the portal and how much time they spend there. The portal also tracks whether board directors are reading their messages and how often they read them.
Board self-assessment surveys also provide a way for boards to assess their individual and collective performances. BoardEffect offers a survey platform that accommodates a variety of question and answer types. The program makes it easy to form questions related to the board's strategic plan, the focus on the mission, industry trends and developments, monitoring management, board recruiting and development, and much more. Self-assessments will indicate drops in board member participation and identify any variables that may have led to a decline in board member commitment.
A BoardEffect board portal system also offers state-of-the-art security features so board members can be assured that their board business is secure from hackers and data breaches at all times.
In breaking down the definition of board engagement and having a better understanding of what it means, boards should be able to formulate a plan to measure board engagement based on psychological, professional and tangible engagement. This will help the board make critical decisions about who should stay on the board and who should be replaced.