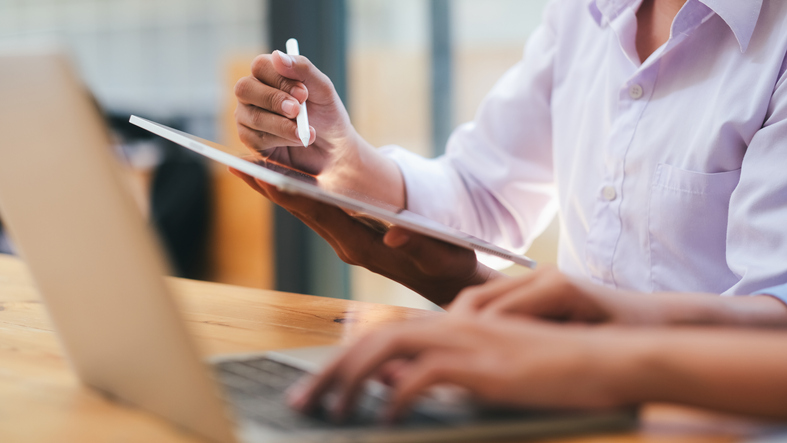 Why Nonprofits Are Getting More Strategic with How They Use Technology
Whenever technology delivers a new product, there are always a few people that are out of the gate and willing to give it a try right away. Some people prefer to let others test the waters to see how it works first. There is always a small demographic of people that resist using nonprofit technology unless someone explains it to them and shows them how it can make their lives easier.
For nonprofits, board members have many options for how to implement technology for the good of the organization. Chances are good that your nonprofit board has a good mix of people that are eager to use technology to increase efficiency and reduce human error as well as those who prefer to continue doing things the same way they've always done them.
As we've learned in 2020, technology can be a lifesaver, especially when board members can't meet in person. We've also learned that board members that were previously resistant to tapping into the benefits of technology can quickly get up to speed on it when they really need to. With all this in mind, have you considered how your board might be more strategic about how to use nonprofit technology in 2021?
Technology Helps Nonprofits Get More Done and Do It Better
Successful nonprofit boards are always looking for ways to work more efficiently and save costs, and the right technology can make that happen. A thought-provoking question that your board can ask is, "What technology can we start using in 2021, and how can we use it to further our mission?"
Let's take a look at 4 types of nonprofit technology that your board can implement right away to get more done and do it better this year.
Mobile
96% of people own a mobile phone of some kind, and that includes every age, gender, and race. Form a committee to explore how your board can use nonprofit technology for the following activities and others:
Getting donations
Checking in volunteers
Registering volunteers
Sending mobile-friendly videos and images (Video consumption rises 100% every year, Hubspot)
Email content
We'll see a rise in 5G infrastructure in 2021, and faster loading times mean that people will use smartphones even more in the future.
Texting
A short text message will prompt supporters to donate or allow you to communicate with volunteers on the job. Be sure your board is familiar with the laws surrounding electronic messaging.
Social media
A 2020 report shows that 3.8 billion people use social media every day. Check out these tips on how to use social media to further your nonprofit's mission:
Share your story through videos and images
Promote a fundraising campaign
Partner with influencers for greater visibility
Consider new apps like Tik Tok (They recently launched Tik Tok For Good, an app for community projects)
Video
In addition to setting up virtual board meetings, consider other ways to use online videos like these:
Marketing
Fundraising (Get up to 57% more donations by using video, Fast Company)
Live streaming
Tips on How to Tap into the Power of Nonprofit Technology
Now that you have a better grasp on the types of communication channels you can deploy to gain greater visibility for your nonprofit, let's look at some specific ways to use them to help fulfill your mission and vision.
Messaging Around Social, Economic, and Political Issues
There was no shortage of social, economic, and political issues at the forefront of the media in 2020. Your donors and volunteers are interested in how those issues impact your nonprofit's mission, so don't ignore them. The issues that affect everyone's daily lives are important topics for our board to be talking about.
For example, this list will give you some ideas about the issues people are concerned about:
Diversity and inclusion
The social impact of the pandemic
The economic impact of the pandemic
Racial disparity
Violence and unrest
Joblessness
Housing
Political unrest and divisiveness
Virtual Fundraising
Beyond using nonprofit technology to spread the word about your nonprofit via various communication channels, technology can help your organization to be more transparent. Transparency is a compliance issue for nonprofit organizations, and your stakeholders are equally as interested in it. Tracking and reporting data is a major activity for nonprofit organizations, and nonprofit technology can help you do it faster and more accurately.
Many donors find it easier to fit monthly donations into their budgets rather than making a large donation at the end of the year. Nonprofit technology can easily automate the process. Call-to-action buttons can be your best friend for online giving.
Virtual Volunteerism
On the whole, nonprofits were forced to forgo in-person events in 2020 for safety reasons. Considering the pandemic, the work of nonprofit organizations became more important than ever. On a positive note, it forced nonprofits to get creative on how to deliver services safely. Virtual volunteerism became a staple of many nonprofits over the last year, and that's likely to continue into the first half of 2021.
Nonprofits have learned that virtual events and hybrid events are valuable ways to get more people involved. Virtual events help to overcome the challenge of travel and time constraints for volunteers. With the help of video software, virtual events are almost as good as being there.
Personalize Donation Strategies
In the corporate world, there's a huge emphasis right now on enhancing the customer experience. Companies, large and small, are using a variety of digital tools to create a personalized customer experience. The same concept works equally well for nonprofit organizations. Personalization is a great way to develop long-lasting relationships with your donors. So, how does that work in practice?
Create detailed profiles of your donors
Use the data to make appropriate recommendations for donation amounts
Highlight the ways their values coincide with your nonprofit's mission
Provide opportunities to get your donors' input and feedback
Use storytelling to describe how their gift or time will help solve your community's problems
We've merely scratched the surface of the many ways to use nonprofit technology to serve your community and fulfill your mission. BoardEffect's board portal system was developed to streamline board activities for nonprofits. The portal has a robust set of features and capabilities to help your board store documents, manage board meetings, get signatures electronically, and much more.
The possibilities of nonprofit technology are virtually limitless. All it takes is having an openness to trying new strategies and being willing to experiment with trial and error. Nonprofit technology could be your key to success and state sustainability in 2021.