My Recurring Mistake in Managing Boards and How to Easily Avoid It
This was originally posted on the Wharton Entrepreneurship Blog which you can read here.
So, I admit it. I've attended a board meeting without feeling fully prepared. And not just once. I've done it many times when serving in many different roles: as a board member, as an entrepreneur and executive responsible for managing my own board, and as a staff member tasked with supporting the work of the board. To be sure, there are widely varying degrees of preparedness; and it is fair to say that one can always be better prepared. So, it's quite rare that I feel completely ready for any board meeting. And when I do, it's usually an indication that I've actually allocated far too much valuable time to the task of meeting prep!
No, the issue is not my actual level of readiness; it's how I respond when I (quite naturally) feel less than 100% prepared. When this happens, I tend to react by racing through a series of last-minute pre-meeting questions in my mind:
What do I need to know for this meeting?
What should I plan to say / ask at this meeting?
What do I want to get out of this meeting?
What do I need to contribute to this meeting?
This is a trap into which I suspect many people fall. As the saying goes, "There is no 'I' in 'TEAM;'" but each of these questions focuses exclusively on one person – me. Meanwhile, high functioning boards operate in ways that resemble strong teams. In this way, our natural instincts toward introspection can be counter-productive in advancing the work of a governing body, and even the broader organization it serves. Instead, what I find helpful in preparing for board meetings is to turn the lens completely around, and focus a similar set questions on others involved in the board process:
What do OTHERS care about at this meeting?
What do OTHERS want to get out of this meeting?
What will enable OTHERS to best contribute their talents / skills / experience at this meeting?
What will make this meeting successful (vs. not) for OTHERS?
Irrespective of your role (board member, executive, board administrator / liaison), it can be quite helpful to ask and answer these questions. Hopefully the benefits of such an approach are readily apparent; and readers will willingly accept this general premise. But, to me, understanding and adopting this shift in mindset isn't the most interesting or challenging part of this issue. Actually doing it is. Executing on this approach requires a lot of discipline and time, both of which tend to be in short supply during the busy run-up to board meetings. And, let's be honest, it would be quite difficult at any point to answer these questions as they relate to a potentially large number of individuals with whom we may have only a passing familiarity. Instead, I've learned that a very simple, commonly used framework can make it much easier; and I want to share that tool here:
It's a 2-x-2 grid. This is a staple used in most business school curricula and a framework I've referred to in other writings about boards and board portals. Rather than posing introspective questions about myself or the group, the framework focuses on issues or topics that may appear on a board meeting agenda. In so doing, it offers a way to assess how the board can best utilize its most precious and constrained resource: time. The model plots agenda topics along two criteria, which are represented on the X and Y axis, respectively. They are: (1) the amount of In-Meeting Discussion a given topic deserves, and (2) the amount of Pre-Meeting Reading it requires. The resulting grid looks like this:
This grid establishes a simple categorization schema for items that appear on the board meeting agenda. These categories also stimulate the identification of topics that may not appear on a proposed agenda but really ought to. I think about it in the following way: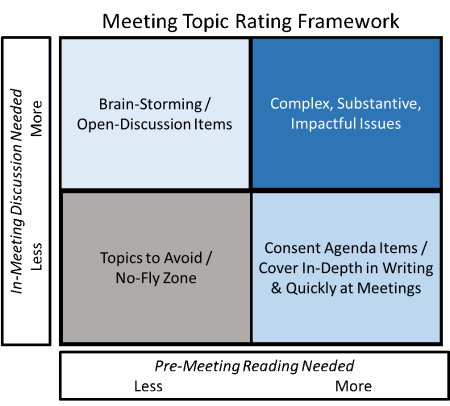 The boxes of this framework are straightforward enough, so I won't belabor the point with a lengthy explanation of each. What is more interesting to me is what happens after agenda items (or topics missing from the agenda) are plotted across this model. I use it as a litmus test for how the board should be spend its time and allocate its resources. Below is a quick example of how some hypothetical agenda items might get plotted within this framework.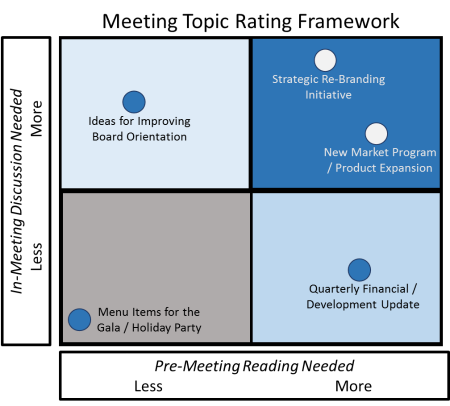 Depending on one's role within a board, this framework can be used in different ways. Board members have the license to propose agenda items to be added or removed from an agenda. Entrepreneurs / executives can leverage this to assist with time management in an objective, non-controversial way within a meeting. And board administrators can "sense-check" meeting materials to make sure they align with and support a given topic's rightful place in this grid.
Most importantly, I hope that this framework can be of use in helping readers to approach meetings with less personally-directed anxiety, more focus on the good of the group, and a framework that assists the board in making the best use of its time and talent.