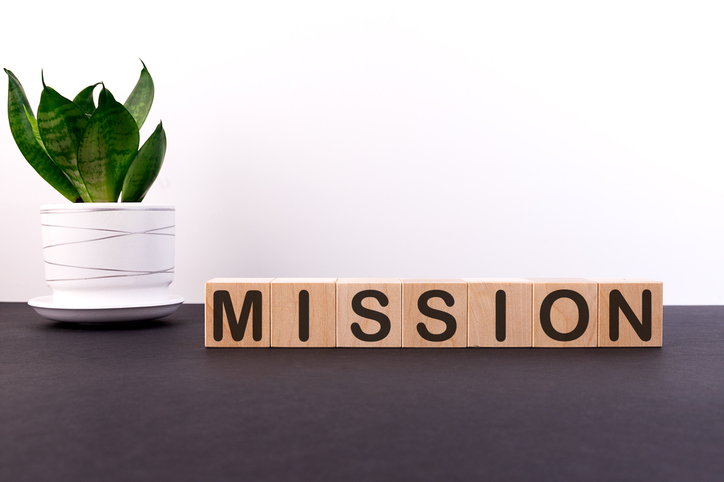 Crafting a Good Mission Statement: The Essential Elements
Some of the best mission statements ever written are simple and to the point.
Your nonprofit's mission statement is the foundation for everything your organization does. All questions and answers point directly to your mission statement. Anyone who reads your mission statement should get a glimpse of your organization's vision and values. In essence, your nonprofit's mission becomes your constitution.
What's the secret in crafting a good mission statement that's concise and impactful, yet meaningful and memorable? The answer lies in incorporating all the essential elements of a good mission statement.
We're providing an overview of how to craft a good mission statement and offering up a few examples of good mission statements and what makes them so dynamic.
The Essential Elements of a Good Mission Statement
Before you get down to the business of brainstorming ideas for your mission statement, it's helpful to brainstorm the types of questions you want your mission to answer.
Here are a few questions to get you started:
What are your nonprofit's core values?
What audience are you trying to reach?
What image are you trying to preserve?
Why should your audience seek out your nonprofit or help?
Why should donors give to your nonprofit?
What distinct value does your nonprofit bring to your community?
What makes your nonprofit unique?
The answers to these questions form the basis of adding the rest of the elements to your mission statement.
Here are 5 essential elements of a good mission statement:
Element #1 Simplicity
Keep it simple. Take out all unnecessary words, and don't overcomplicate it. Use common language and word it using a casual, conversational tone. Ask yourself if it's something people can relate to.
Be clear in your purpose. Don't make it overly broad or try to cover too many bases. If there are many facets to your nonprofit organization's work, incorporate all of them under an umbrella statement.
Element #2 Captivating
Don't be boring. Powerfully state your purpose using the present tense.
Ask yourself if it's a statement that will build an emotional connection with people. Your mission statement should be relatable to your target audience.
Give your mission statement a little edge and personality. Is it something people can aspire to? Think along the lines of a statement that is inspiring, energizing, and memorable. Does it compel others to utilize your services or contribute to them?
Element #3 Measurable
You'll know if you're succeeding in your mission if you craft it in a way that allows you to measure the results. That said, veer away from statements that are hard to quantify.
For example, boards can easily quantify a mission statement that declares a goal of being customer-centric by surveying the stakeholders.
Element #4 Relevancy
Your target audience should believe that your mission statement is relevant to them. After reading it the first time or many times, your mission statement should leave them with a feeling that resonates with them and carries meaning.
Element #5 Longevity
Evaluate whether your mission statement will continue to be valid as your nonprofit grows. Take a hint from the long-term goals you set in your annual strategic plan. Forecast whether your mission statement will still be relevant when you get down to tackling those future goals.
You can always change your mission statement down the road, but it's more efficient to keep changes in the mission statement to a minimum if possible.
Examples of Good Mission Statements and What Makes Them Great
To illustrate the point of applying the 5 essential elements of a good mission statement, we're sharing a few nonprofit mission statements and highlighting what makes them great.
Museum of Modern Art (MOMA)
Mission statement:
"To collect, preserve, study, exhibit, and stimulate appreciation for and advance knowledge of works of art that collectively represent the broadest spectrum of human achievement at the highest level of quality, all in the service of the public and in accordance with the highest professional standards."
What makes it great?
It uses common language and gives a clear purpose. It will be continually relevant.
American Red Cross
Mission statement:
"To prevent and alleviate human suffering in the face of emergencies by mobilizing the power of volunteers and the generosity of donors."
What makes it great?
It uses common language, and t's compelling. The audience is clear – volunteers and donors. The goal is clear.
Greenpeace
Mission statement:
"Greenpeace is an independent campaigning organisation, which uses non-violent, creative confrontation to expose global environmental problems, and to force the solutions which are essential to a green and peaceful future."
What makes it great?
It speaks to what they do, as well as what they don't do. It's unique and dynamic.
Medicins Sans Frontieres
Mission statement:
"To help people worldwide where the need is greatest, delivering emergency medical aid to people affected by conflict, epidemics, disasters or exclusion from health care."
What makes it great?
It's clear who the organization helps. It contains a strong emotional appeal that will resonate with most people.
United Nations
Mission statement:
"The maintenance of international peace and security."
What makes it great?
It's an ultra-simple statement, yet it's dynamic and powerful too.
It takes time and effort to brainstorm ideas and develop them to craft the most effective mission statement. Your nonprofit will benefit by getting lots of input from people that bring different perspectives to the table.
Crafting or revising your mission statement is a labor of love. Outline it, write it, proofread it, and rewrite it over again until it's just right. Then, go back to those original questions you wanted to answer and test your mission statement against them. When it feels right, you'll know you've got it, and you can celebrate your accomplishment.
Your BoardEffect board management system is the perfect platform for working collaboratively on your mission statement. The system meets NIST security compliance standards, and your board administrator can set granular permissions for those who are working on your mission statement. BoardEffect also offers all the tools your nonprofit needs to conduct board meeting business and manage all your board activities.