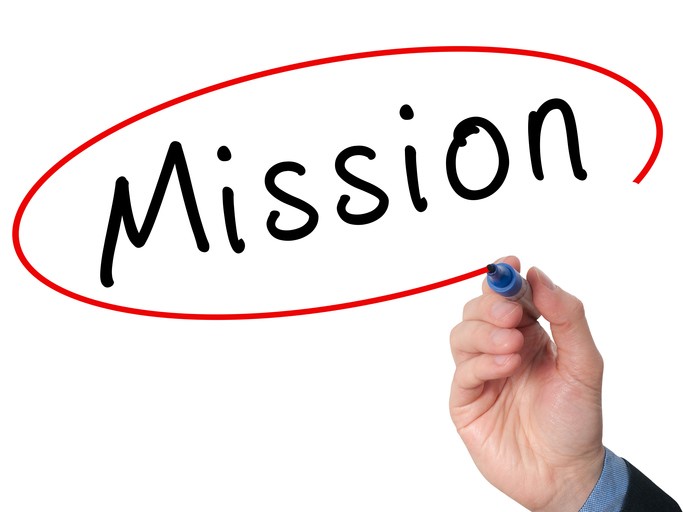 The Role of the Nonprofit Board in Building a Strong Mission Statement
The mission statement is inarguably the most important statement within the bylaws and the articles of incorporation. It's the foundation on which the rest of the organization's work is based. The mission statement shapes marketing efforts, communications and the organizational culture, and influences much more. The mission statement tells others what your organization is all about, who it serves and how the organization pursues its purpose. The mission of a nonprofit organization roughly equates to achieving profitability in a for-profit corporation.
Why Is it Important for the Mission Statement to Be Strong?
A nonprofit's mission statement speaks volumes in a sentence. The mission statement serves and informs those outside the organization and stands as a cornerstone and guide for those within the organization.
The mission statement clarifies the organization's purpose and direction. It's a statement that should transcend time and geographical considerations. It guides the board as they develop policies and processes. The mission statement is a reflection of the expected attitudes, speech and behaviors of the organization's leaders and volunteers, which helps to shape the overall culture. Boards rely on the mission statement to help them establish priorities, evaluate their options and make the best decisions.
What Is a Mission Statement?
Nonprofit boards establish their mission, vision, values and culture. Each of them are different and have different implications. It's important for nonprofit board directors to be clear on the differences in their meanings, and how each factor pertains to the nonprofit. Some people have trouble understanding the mission and vision statements and try to use them interchangeably. It helps to think of the vision as "what you want to see" and the mission as "what you want to do."
Characteristics of Nonprofit Mission Statements
Many nonprofits are surprised at how difficult it is to develop a meaningful mission statement. The challenge is in packing all the right information into a statement that is clear, to the point, unambiguous and easy to understand at the first reading. It's wise to use only concrete language and to avoid buzzwords, jargon and big words. Mission statements are usually about five to 15 words at their best and no longer than 20 words.
Nonprofit boards should review their mission statements at least annually. Times change, society changes, community needs change and the organization goes through various developmental changes. Any of these issues can signal the need to revise the mission statement.
When the mission statement stops matching the words, actions and behavior of the board and leaders, donors and other stakeholders are apt to notice and may stop supporting the organization. That's an issue that could negatively impact the organization's sustainability and isn't a risk worth taking.
How to Develop a Nonprofit Mission Statement
More goes into a nonprofit mission statement than most people think. Boards should be aware that developing the mission statement is a process that takes some time and they should allow at least a half day for the project. It helps to have many points of view, so boards may want to invite participants from various parts of the organization, including employees, board members, volunteers, long-term supporters and friends. If there are too many participants to be productive, boards could also use focus groups. Nonprofits may also enlist the help of a third-party facilitator to help keep things on track.
Ask participants to bring their best creative ideas and to keep an open mind.
Bring some examples of other organizations' mission statements and highlight what makes them meaningful and special. Ask other participants to do the same and spend some time discussing what makes some of the mission statements stand out.
Storytelling and Brainstorming
A good way to start is just to let everyone take turns and do some good old-fashioned storytelling and brainstorming. Throw out phrases and ideas about how and why the nonprofit started and why it's important. Jot them down on a whiteboard or on large Post-it sheets. Describe what the nonprofit looks like when it functions at its best.
Diagramming and Consolidating
At this point, everyone should have a few ideas that they love. Look for commonalities among the words and phrases. How do the words and phrases connect with people, places, actions and problems? Discard words and phrases that no longer seem to fit.
Next, simply classify each word or phrase into an action, beneficiary, service or problem that the nonprofit solves. Pick two to five of the words or phrases that best reflect what your nonprofit does. If you choose more than four or five words or phrases, you're moving away from clarity and conciseness and you're getting closer to wordiness.
Finalizing the Wording
Arrange the words in a logical, concise and meaningful order. Keep revising it until the whole group thinks it's perfect. If it sounds too similar to another organization's mission, brainstorm ways to make it your own. There must be something that sets your organization apart from other nonprofits.
Cradles to Crayons offers an excellent example of a nonprofit that reflects their purpose in their brand name and in their mission statement. Their mission statement is: "Provides children from birth through age 12, living in homeless or low-income situations, with the essential items they need to thrive – at home, at school and at play."
It's a little over the 20-word rule, but hopefully, you get the point.
Summing Up the Role of the Nonprofit in Building a Meaningful Mission Statement
Nonprofit boards can certainly form a mission statement on their own. Incorporating others in the process makes it a lot more fun and rewarding at the end. Your mission will become as much a part of the organization as the bylaws, articles of incorporation and founding members.
Whether you're writing a mission statement for a new nonprofit or revising an outdated one, your organization's mission statement should encompass why you formed your nonprofit, who it serves, and how it serves them using clear, concise language. It's important to take the time and effort to create a mission statement that will be meaningful and informative for stakeholders and that will guide and inspire the board, leaders and volunteers as they fulfill the nonprofit's purpose.
One last thing: Don't forget the all-important step of formally adopting the mission statement and adding it to the articles of incorporation and the bylaws.