Board Portal Software
BoardEffect drives efficiency, effectiveness and engagement among board directors, executives and administrators.
More than 2,500 leading organisations and over 180,000 users rely on BoardEffect to manage board-related information online and advance the work of their boards.  Hospitals and healthcare systems, nonprofits, foundations, educational institutions, government entities, companies and many others leverage BoardEffect to support the dynamic, nuanced, critically important work of governing bodies.
BoardEffect allows truly easy management of board information, while also enabling board directors to fulfill their responsibilities of elevating organisational performance.
DESIGNED AROUND THE WORK OF BOARDS
Boards operate in a series of demanding, interdependent cycles, in terms of frequency and sustained focus. The functionality and workflows of BoardEffect's board portal software are designed to support boards as they manage the responsibilities inherent within these complex, mission-critical cycles.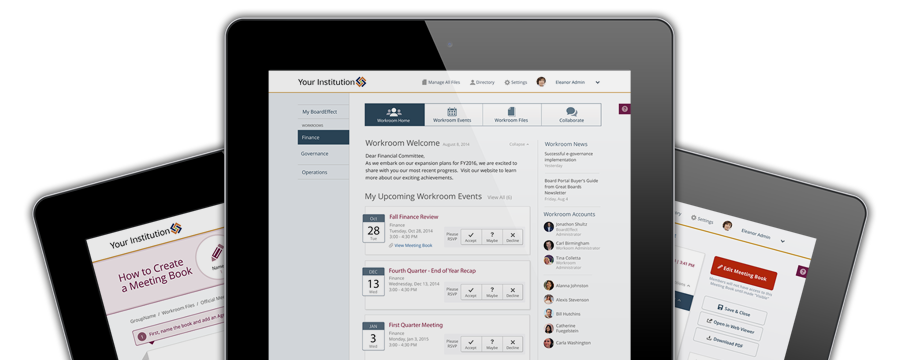 "Our first IHA Board Meeting went great using BoardEffect on their iPads. We had great comments on the product and how quickly we were able to get it implemented. Thanks again for making this an easy implementation process for me and our board members. We really like it!"
Pam Gridley
Director, Corporate Relations & Operations, Iowa Hospital Association
"When looking for a board portal we reviewed several in the industry. BoardEffect met our functionality requirements equal to each of their competitors. Based on the function and price comparison BoardEffect was easily seen as the best solution. We have been pleased with our implementation and our ongoing support by BoardEffect. BoardEffect has a wide install base that gives them the experience to guide implementation decisions for best practice with their portal."
Joyce Miller Evans
Vice President, Chief Information Officer, Ohio Presbyterian Retirement Services
"BoardEffect is really intuitive – not overwhelming – but what creates additional engagement by the board members is their ability to access not only board meeting materials in "real time" but also supporting documents that are all located in one easy-to-use tool. They are also pleased with the increased efficiency gained from my office that allowed for a decrease in board preparation from 8 to 16 hours per month to 30 minutes to one hour."
Kelli Ockinga
Executive Assistant to the President and CEO, Mary Lanning HealthCare
Speak with a Representative.