World Class Services For Your Board Governance
BoardEffect proudly serves over 2,500 leading organisations worldwide, including the Stroke Association, International Well Control Forum, Camelot Business Solutions, Enstar Group, ABTA, Local Space, the Royal College of Psychiatrists, Trafford College, Cambridgeshire & Peterborough NHS Trust, to name a few.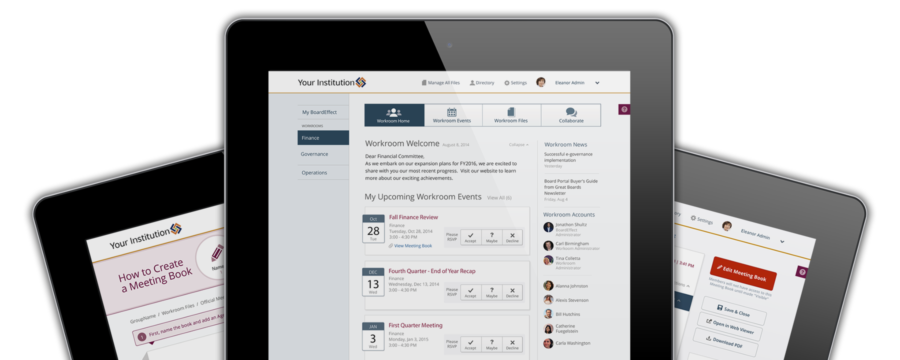 Relentless Care™
We're passionate about the work of boards, crazy about your success, and delight in assisting your organisational growth. That's Relentless Care.
Relentless Care means we've got your back, anytime, day or night, and that we will do whatever it takes to ensure that you are confident in your mastery of BoardEffect. We don't limit the hours you can contact us. Nor will you incur additional fees when you do need our help. Relentless Care knows no limits. Whether it's last-minute training for your board of trustees or a question about how to use the polling feature in BoardEffect, our team of experts is here to provide Relentless Care for you. That's our promise; and your success is what drives us.
Take advantage of Relentless Care in whatever form works for you:
"BoardEffect has been a key driver in regards to the execution of our strategic plan which was accomplished quickly and efficiently. BoardEffect is a real boost to our governance processes."
John Janclaes
President/CEO of Partners FCU
"Our first IHA Board Meeting went great using BoardEffect on their iPads. We had great comments on the product and how quickly we were able to get it implemented. Thanks again for making this an easy implementation process for me and our board members. We really like it!"
Pam Gridley
Director, Corporate Relations & Operations, Iowa Hospital Association
"When looking for a board portal we reviewed several in the industry. BoardEffect met our functionality requirements equal to each of their competitors. Based on the function and price comparison BoardEffect was easily seen as the best solution. We have been pleased with our implementation and our ongoing support by BoardEffect. BoardEffect has a wide install base that gives them the experience to guide implementation decisions for best practice with their portal."
Joyce Miller Evans
Vice President, Chief Information Officer, Ohio Presbyterian Retirement Services
"BoardEffect is really intuitive – not overwhelming – but what creates additional engagement by the board members is their ability to access not only board meeting materials in "real time" but also supporting documents that are all located in one easy-to-use tool. They are also pleased with the increased efficiency gained from my office that allowed for a decrease in board preparation from 8 to 16 hours per month to 30 minutes to one hour."
Kelli Ockinga
Executive Assistant to the President and CEO, Mary Lanning HealthCare
"I am ALWAYS pleased with the tech support that I receive."
Lavin S.
"I am a firm believer that the support you get from a company is just as important as the product / company itself, and even more so!!! I give you guys 5 stars!!"
Lavin S.
"Rachel ALWAYS gives 'above and beyond' service!"
DeeAnn K.
"The quality of support that I receive from boardeffect client services continues to impress me."
Cheryl S.
"Customer Service Representative was very responsive and efficient."
Marilyn B.
"Could not be happier with the response and resolution to my question."
Bryan F.
"The response was quick and very helpful – very pleased with the support."
Kathy M.
"Again, outstanding support with every interaction. I've been very impressed. Thank you."
Sue C.
"The customer service support is outstanding! Responsive and clear answers/instructions!"
Sue C.
"Chris P., as usual, was very responsive to my request…HE ROCKS!"
Eileen C.
"As a new user I was extremely impressed with the response to my question and the prompt turnaround time from submission. Keep up the great work."
Lavinia L.
"As always it is very easy to work with the BoardEffect support staff. You are very lucky to have that caliber of employees!"
Patsy N.
"Great service, super fast responses. I like it!"
Linda H.
"I was totally satisfied. As a new user of your system I was greatly encouraged at the response, not only the turn around time but also the patience your support team has with less than familiar initial users. Keep up the great work."
Lavinia L.
"You guys are always quick to respond – much appreciated!"
Cecelia N.
"I LOVE RACHEL AND CHRIS!!"
Mary T.
"I am very happy with the support I received. The response was prompt, professional and easy to understand. Many thanks again."
Robyn S.
"Exceptional as always!"
Barb R.
"Support is always very prompt in answering all my concerns. I am very pleased so far! Thank you."
Karen C.
"I'm very satisfied with the promptness of replies for all help tickets submitted to BoardEffect. Thank you."
Patti H.
"Chris helped me straight away. I truly appreciate it."
Angela A.
"Chris was patient and extremely helpful. Thank you, again."
Kathleen M.
"Rachel was very patient and was able to assist me with no problems."
Shawntae K.
"The quality of support is wonderful.  Thank you!"
Valerie H.
"Support has been very responsive to my issues. Appreciate their fine service. Keep up the good work!"
Terry S.
"He answered knowledgeably and very quickly!"
Debbie F.
"Rachel helped us resolve the issue very quickly!"
Hilary L.
"Your support team has been very prompt in responding to my questions and requests."
Jane D.
"Rachel was very helpful and solved my problem."
Cinda P.
"I love how quickly I get a response with accurate information. Very helpful and always friendly!"
Becky P.
"The changes you have made with support has been great. Being able to reply to the email is huge as I'm often not in BoardEffect when a response is returned. Your response time on issues is fantastic! Thank you for that."
Alicia M.
"I am very happy with the patience and assistance of the helpdesk team and appreciate them very much!!"
Valerie H.
"Support was timely and much appreciated. Many thanks."
Carolyn S.
"The helpdesk representative's response was timely and concise. Thank you."
Lynn L.
"BoardEffect is excellent! Wow!"
Mary Ellen L.
"Everything is going really well with BoardEffect, and the BoardEffect team is very responsive and easy to reach."
Ellen G.
"Great set-up and support from BoardEffect."
Karen H.
"Sometimes I need answers in a hurry. Every time I call into support for help, everyone is extremely nice and helpful."
Bev H.
"Using the BoardEffect platform is pure magic! It has made our lives so much easier! Previously I was comfortable with the process we had in place, but there is nothing like BoardEffect. I am in awe!"
Nickie K.
"We are new to BoardEfffect, and I must say it is fantastic! The customer service we receive has been great! I really appreciate how helpful you all have been!"
Beth F.
"I love BoardEffect! You guys changed my life. Best product EVER!"
On a J.
"I love the blog and newsletter. I depend on it!"
Melissa
"I have always been able to connect with an individual on the support team when needed and I love the webinars."
Pam L.
"The BoardEffect portal is the most useful tool for keeping me involved in governance support."
Carolyn S.
"Lindsay provided a quick response for a question to which I knew the answer; however, I was in a panic and couldn't think. She not only was quick but very kind and did not make me feel foolish. For that I'm particularly grateful."
Mary Beth J.
"It is very helpful and problems are solved. Thank you."
Anita M.
"Great follow up and quick responses. Customer service excellence!"
Carolyn H.
"Very fast and friendly! Thank you!"
Katie P.
"Your Helpdesk staff are great!"
Carolyn H.
"Exceptional support and response time, as always!"
Gail G.
"People at BE are always very helpful with my questions. I value the quick response time and the clarity with which the question is answered. Thank you! "
Miriam M.
"As usual, I'm always happy with your Customer Service."
Brenda W.
"I received a prompt response and resolution to my issue."
Nancy S.
"Grant was quick to respond and assisted me with the issue in a friendly manner."
Sarah H.
"I received an excellent support to my problems. I don't have any complaint. Thank you for all!"
Rita V.
"Phillip was AWESOME!!!"
Gina M.
"Rachel is always super whenever helping us resolve problems. If she doesn't have the answer, which is very seldom, she will always find an answer quickly. We love her."
Shirley A.
Speak with a Representative.