Board Management Software That Is Truly Easy, Truly Secure, Truly Mobile.
Board governance is complex, demanding, and high-stakes. It is also cyclical in nature. BoardEffect's board management software supports best practices within and across each cycle of board activity.
Click the board cycles below to find out more.
Focused On Security
The Board's work is not only important; it's often sensitive, confidential and even controversial. The BoardEffect board management software is at the vanguard in terms of data security and discoverability, offering organizations the opportunity to be intentional with the security of their platforms by allowing them to manage settings and control the level of access that meets their objectives. Our commitment to flexibility of configuration extends to product security and meets the NIST 2014 Cybersecurity Standard framework, trusted by financial institutions and other organizations that depend on strict data protection.
BoardEffect provides a multi-layered defense to protect sensitive board information through our 5 Tier Security program in a state of the art dedicated SOCII infrastructure.
Fill out our contact form to download our board management software security policies and procedures document.
Relentless Care
We're passionate about the work of boards, crazy about your success, and delight in assisting your organizational growth. That's Relentless Care.
Relentless Care means we've got your back, anytime, day or night, and that we will do whatever it takes to ensure that you are confident in your mastery of BoardEffect. We don't limit the hours you can contact us. Nor will you incur additional fees when you do need our help. Relentless Care knows no limits. Whether it's a last minute training for your board of directors or a question about how to use the polling feature in BoardEffect, our team of experts is here to provide Relentless Care for you. That's our promise; and your success is what drives us.
Take advantage of Relentless Care in whatever form works for you:
Pricing
Pay for only what you need; nothing you don't. The BoardEffect board management software is licensed as an annual subscription. Fees are based on tiers of users, not individuals. So you can add or subtract a few people here and there as your needs evolve, without incurring incremental costs.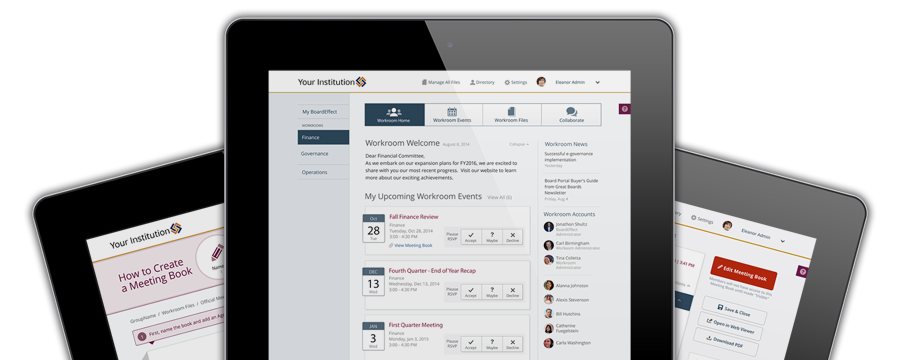 What Is Board Management Software?
Board management software, also known as a Board Portal, is a secure app or website designed for the use of boards. This technology facilitates communication between directors and the company and simplifies board meeting processes.
"Our first IHA Board Meeting went great using BoardEffect on their iPads. We had great comments on the product and how quickly we were able to get it implemented. Thanks again for making this an easy implementation process for me and our board members. We really like it!"
Pam Gridley
Director, Corporate Relations & Operations, Iowa Hospital Association
Speak with a Representative.