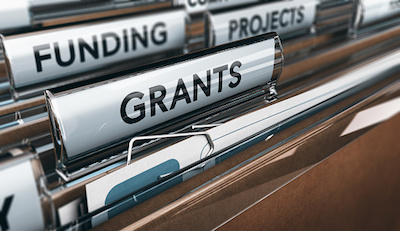 What Is a Startup Business Grant?
Thousands of great ideas never come to fruition because business owners and founders of nonprofit organizations don't have the seed money to get a business or organization off the ground. In learning about the benefits of grants, startups often pursue them without having a good understanding of where to find the most appropriate grants or how to submit an application that results in a much-anticipated approval. Grants for startup organizations exist, but they're not plentiful or easy to get. Groups or individuals that know where to find them, and how to apply for them effectively, are more likely to have success with the process when they know how to find grants and how to submit an attractive application.
What Is a Startup Grant?
Startup grants consist of a sum of money that groups offer to small companies and nonprofits to help them with their work.
Grants aren't like loans. Organizations don't have to put up collateral or pay late fees or interest. In fact, organizations don't have to pay back grants at all. Essentially, the money is free.
Most applicants for business grants seek funds for projects with specific parameters and measurable outcomes. Grant money usually comes with limitations on how organizations can use it. For example, a homeless shelter that applies for a grant to cover the cost of food items to feed the needy — and gets it, but uses those funds to pay for staff to prepare and serve the needy — may be guilty of fraud. Organizations that fail to use funds for the purpose outlined in the grant may have to pay the funds back.
About Searching for Startup Grants
In searching for grants for startup organizations, it's important to recognize that grants are hard to find, and if you do find some, they may only be offered to organizations that meet strict criteria.
The first thought that many people have is to start with a large listing or database of grants. This approach is likely to yield a lot of frustration with little or no results. Grant listings are lengthy, which means they're incredibly time-consuming to sort through. As grant organizations regularly discontinue their offerings or new ones become available, grant listings quickly become outdated. Links to websites may become outdated or changed.
Organizations usually direct their grants toward a specific industry, gender, location or minority. It's difficult to locate grants where your business or organization fits all the criteria that the grant-maker is looking for.
Competition for Grants Is Fierce
Unfortunately, there are many more organizations seeking and applying for grants than there are companies offering grants, making the competition for grants highly competitive. The challenge is finding just the right grant that fits with your mission and getting in the best possible application for it.
Where to Look for Grants
Grants won't come looking for you at your doorstep, so plan on pursuing them actively. However, don't modify your business to make it look like it fits the proper criteria, because this approach will likely end in a denial. For the best chance at success, apply for grants that look like they were tailor-made for your business or organization.
There are many resources and grants available that any type of organization can apply for, such as:
These grants may not be available for startups, but they can help move your mission along once your organization is up and running. There are also grants for certain populations, such as minorities:
Certain other organizations open up their grant opportunities for women. These include:
Women may also have good experience finding grants at SBS Women's Business Centers.
How to Increase Your Chances of Securing a Startup Grant
Difficult as it may be, there are things that you can do to help put your organization at the top of the list for a startup grant. Rule number one is: Don't get discouraged. Expect the process to take time, effort and much research.
The first thing you need to decide is how you'll approach them. Do you plan to send an email? Is it better to pick up the phone and call them? Are you able to get an appointment for an initial office visit? Perhaps the best approach is to send a general letter of inquiry.
The grant-making company's initial response will help to determine their level of interest in your project or organization. If you're successful in piquing their interest, they may ask to see something more.
Bear in mind that grant-makers are looking for strong applications. State your objectives clearly, set forth your plan and provide them with a realistic budget. State measurable objectives for the short and long term, as well as your methodology, benchmarks and timetables.
Some organizations offer workshops for potential grant applicants where they explain more about what they're looking for. Applicants must adhere to strict guidelines and give the funder no more or less information than what they asked for. Make sure you fill in all the blanks and check all the boxes so the grant-maker doesn't send it back unfunded.
Be clear about how your organization intends to use the funds, and if you get the grant, be sure to only use the funds for the purpose outlined in the grant.
Other Ways to Finance Your Business or Organization
While grants are one of the most attractive funding sources because organizations don't have to pay them back, the difficulty in obtaining them means that most businesses and organizations will need to resort to other sources of funding. Here are some more viable options for startup funding:
The highly competitive nature of grants means that grant-seekers may need some professional help. Organizations may consider sending a representative of their organization to a grant-writing class. Alternatively, they may enlist the help of a professional, experienced grant-writer to increase their chances of getting just the right grant for a startup.