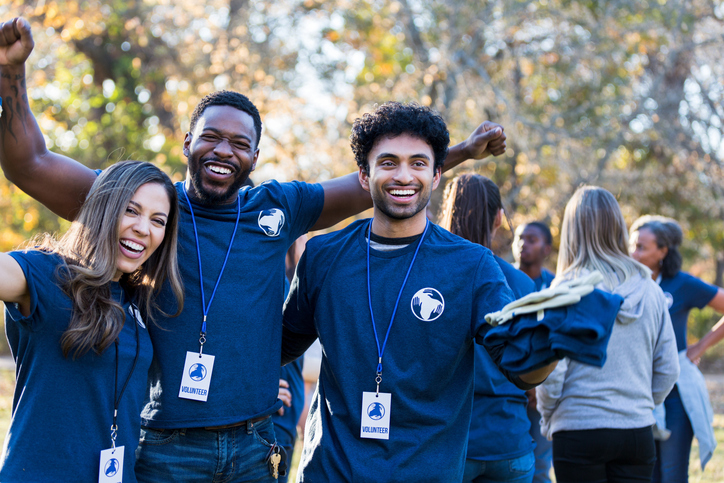 The Keys to Peer-to-Peer Fundraising Success
Peer-to-peer fundraising breaks the mold of traditional fundraising models for nonprofits. How well does peer-to-peer fundraising work? Statistics from Fundly show that with every 100 Facebook friends a fundraiser has, your peer-to-peer fundraiser has a 20% increased chance of success.
Sharing is a central component of peer-to-peer fundraising, and while sharing is also a component of crowdfunding, there are distinct differences between the two fundraising strategies.
Peer-to-peer fundraising is a modern approach to nonprofit fundraising. We will explain what peer-to-peer fundraising is and how it differs from crowdfunding, provide examples, and give you some tips for success with your next peer-to-peer fundraising event.
What Is Peer-to-Peer Fundraising?
Peer-to-peer fundraising, also called social fundraising, is an event where individuals set up personal campaigns asking their peers to donate to a particular cause. For example, you may have seen people you know ask their social media followers to donate to your nonprofit instead of buying you a gift for your birthday or other occasion or sending you a card.
The benefit of peer-to-peer fundraising is it expands your reach beyond each individual's contact list and extends into others' social networks. Peer-to-peer fundraising campaigns can reach family members, friends, coworkers, and acquaintances and spread awareness of your nonprofit's excellent work.
Exactly how does peer-to-peer fundraising work? Those interested in soliciting donations on behalf of your nonprofit set up an online fundraising page announcing the campaign. They then call on friends and family members to donate to your nonprofit.
Because peer-to-peer fundraising campaigns have a much larger reach than other fundraising events, the potential for public support for your nonprofit is virtually limitless.
Peer-to-Peer vs. Crowdfunding
Is peer-to-peer fundraising the same as crowdfunding? While peer-to-peer fundraising is similar to crowdfunding in many ways, they have distinct differences.
Peer-to-peer fundraising can include a crowdfunding strategy. Both fundraising strategies are similar in that they both rely heavily on sharing with personal connections and social media for success. Another notable similarity is they both work well for virtual fundraising.
What makes peer-to-peer fundraising different from crowdfunding? The main difference lies in how the fundraising campaign is set up.
Organizations or individuals may set up crowdfunding campaigns. With a crowdfunding campaign, whoever sets it up asks followers to donate to a particular nonprofit. Crowdfunding campaigns centralize the ask for donations with a single fundraising campaign page. A crowdfunding campaign is usually a one-time event. For example, your nonprofit might set up a crowdfunding campaign to solicit donations for a specific purpose, such as buying software to create efficiency or raising a specific amount of funds for research.
By contrast, peer-to-peer fundraisers are more decentralized as various individuals share their own donation pages with all donations flowing into your nonprofit. Individuals personalize their peer-to-peer fundraising pages, making a customized appeal to their followers.
Overall, peer-to-peer fundraising campaigns and crowdfunding campaigns can be run by your nonprofit and will need fewer resources than other types of campaigns.
5 Examples of Peer-to-Peer Fundraising?
Peer-to-peer fundraising can prove to be highly successful. Let's get down to brass tacks about how your nonprofit can go about it.
Here are 5 examples of events your nonprofit might consider when strategizing for peer-to-peer fundraising events:
5K Walk Run. 

Hold an annual event asking volunteers to solicit donations from family members and friends to honor the volunteers walking or running in a 5K event. Generally, sponsors help fund the event and provide water and snacks for participants. Many nonprofits sell t-shirts for the event to raise even more money. 

Entertaining Competitions. 

Events such as bowl-a-thons, polar plunges, fitness challenges, or chili cookoffs draw a crowd for a fun and friendly competition. Local businesses may encourage their employees to form teams—award prizes for silly achievements such as craziest costume, most gutter balls, or the hottest chili.

Pub Crawls. 

Ask area restaurants and bars to host the public for a special charity night. Each purveyor may offer a special drink for the occasion and discounts or special pricing for the event. Participants can dress in costume to add festivity to the event. A bake sale, coffee crawl, or dessert crawl are variations on this type of peer-to-peer fundraising event.

Solicit Charity Donations in place of Birthday or Wedding Gifts. 

Today, couples often get married when they are older and established in a home—eliminating the need for traditional registry gifts, such as fine china and kitchen appliances. An engaged couple or anyone celebrating a birthday may opt to set up a peer-to-peer fundraising page to solicit funds for their favorite charity rather than receive gifts they don't need or want.

Virtual Game Night. 

Decide on a game night and invite people to donate a particular amount to participate. Set up a Zoom call or other online group meeting link at the appropriate day and time. Provide all the details of the game night ahead of time. Offer prizes for the winners. 

 

Polar Plunge. 

Choose a cold winter day and ask participants to solicit donations on behalf of your nonprofit. On the day of the event, participants brave the cold with a trek into an icy cold lake or river. Ask participants to dress in costume to add humor and excitement to the event. Add some live music and fun prizes for a successful event. 
Strategies for Success with Peer-to-Peer Fundraising
How can you be sure your peer-to-peer fundraising event will be successful? Be sure to make sure all participants have the right tools and support every step of the way. Make sure they have all the necessary details. Moreover, arm them with materials, images, and videos participants can share with their followers to spread the word.
Consider using an online peer-to-peer platform for collecting donations. These purpose-built platforms make it easy to create individual fundraising pages and make it a breeze to share them on social media platforms. Fundraising platforms usually also allow for a main campaign page where you can easily keep track of the overall progress of all participants. This is a conducive way to track overall donations and stay in direct communication with participants.
Kick-off and wrap-up events can also help to ensure a successful peer-to-peer campaign. Kick-off events will help to generate anticipation and excitement for events and help answer participants' questions ahead of time. Wrap-up events allow your nonprofit to present awards to individuals for helping reach your goals and praise everyone who contributed to the event's success.
Overall, successful peer-to-peer fundraising gives your nonprofit increased exposure, which will undoubtedly lead to donations that are higher in number and greater in amounts.