Guiding Principle Highlight: Ease of Use
Small Enhancements, Big Impact
We think beyond board books.  Our product vision and guiding principles allow us to consistently innovate, but in a predictable way that supports what you care about.  We find time and again that our customers are most interested in ease of use, security and control, citing them among their top reasons for selecting BoardEffect as their board portal provider.
I've discussed security and control as guiding princples in product development in previous posts in this 5 part series.  It's time to tackle ease of use.  Elegant simplicity is the highest virtue in board management software. We always prioritize and retain simplicity when considering the addition of any new functionality to BoardEffect.  Because we're all about making it easy to use.  And, because of this, we hear over and over that ours is the easiest system to adopt.
Making a product easy to use is no small task, especially when that product serves the complex needs of Boards. We continually walk in our clients' shoes to make sure we are addressing the core needs without over-complicating workflows.  This discipline combined with a dedication to listenting to user feedback drives refinements to the product, and nowhere more so than when it comes to ease to use.  Sometimes it's not about big, hairy, audacious new features.  Rather, we note how small enahancements can have a disproportionately big impact on how users work with the product.  We saw this recently with our changes to how users view content within the workroom.

You may have noticed the tile menu in the meeting book section released a few months back.  This funcationality allows users to change the view of content so that they can sort and locate a specific meeting book.  This builds on the upgraded user interface and enhances the meeting book experience by making navigation easier.  Soon after its release, we heard from many clients that they would like these options in other areas of the platform, specifically workroom Collaborate.  The value was clear.  This enhancement was subsequently developmented and released to other areas of the platform.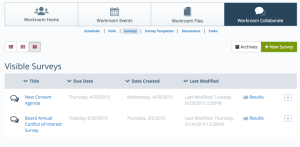 As mentioned previously, a healthy tension exists between the 5 guiding principals that at once pulls and pushes the product as we advance it.  We can see this by revisiting last month's article on Security.  A platform overly focused on control and security may take more time to learn and implement.  In such instances, striking the right balance by thoughtfully iterating on features and balancing our approach with fulfilling our guiding principles is key.  When it somes to ease of use there is much less ambiguity.  And the user can play a key role.