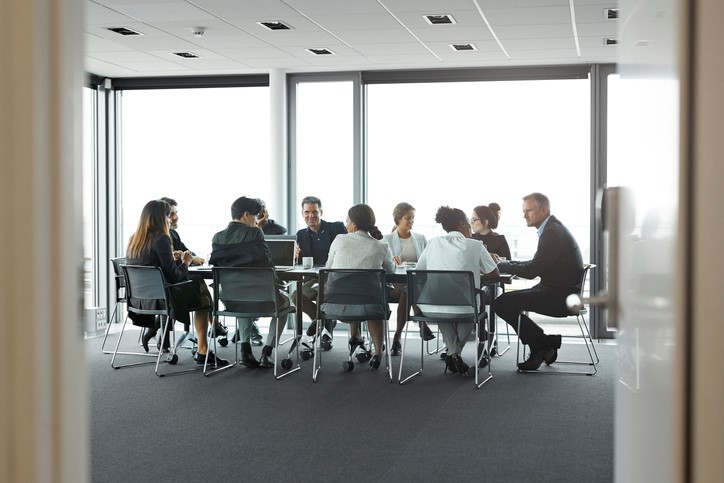 Best Practices for Improving Board Member Communications
It's easy to focus on the mechanics of running an organization through a board and unintentionally overlook how much of the board's work is related to communication. We have the good fortune in today's society to have many different channels for improving communication. We can talk on the phone, chat by electronic message or video, or speak face-to-face. Board directors need good communication skills whether they're working on projects solo or in a group setting. Improving board communication combines communications skills with using the right communication channels at the right time to accurately reflect the information that we're trying to relay.
Strong board communication skills are an asset for board directors. Good communication helps to build trust, improve branding, enhance decision-making, and protect the organization's reputation. When communication is lacking in the boardroom, it can lead to serious problems or even a major crisis. A bad situation can be made worse by poor communication.
Maintaining Good Camaraderie and Dynamics in the Boardroom
The culture in the boardroom is a strong indicator of whether a board benefits from good communication. A strong boardroom culture encourages a degree of openness to all perspectives. Boardrooms should be reflective of a collegial environment where dissenting opinions are encouraged and accepted at face value. Board directors are expected to support board decisions even when they disagree with them behind closed doors or when they voted against them. Strong boards present a united front.
The board chair is a key player in how tensions in the boardroom resolve or don't resolve, as the case may be. Experienced board chairs are skilled at encouraging a spirit of collegiality and dissipating emotion during heated debates. As the leader of the board, the board chair should strive to create an inclusive culture that encourages full participation and contribution in the most respectful environment. Effective boards welcome informative debates where diverse perspectives are the norm. Multiple opinions are important for laying the foundation for meaningful challenge and dissent.
Remain Focused on the Importance of Good Decision-Making
At all times, it's important for board directors to recognize and accept that tensions are likely to surface at the precise time that they have to make tough decisions. This means that board directors have to check their egos at the door and focus on the reason they come together which is for the benefit of good decision-making for the organization.
The board chair should ensure that all board directors have the opportunity to have complete information with the benefit of full transparency. All board directors should have the chance to have their questions answered fully and have ample opportunity to voice their concerns and opinions. Boards that overlook directors who feel left out or dismissed risk having board directors on the board who harbor anger and resentment which may re-surface at a later time and set the stage for future conflict. Board directors who don't feel like the rest of the board is giving their ideas value are likely to hold back and become passive observers rather than be active, engaged members of the group.
To set a collegial atmosphere, boards should be willing to welcome constructive criticism, challenge fundamental assumptions, and hold themselves and the executives accountable. Boards put themselves in the best position to make good decisions when all board directors have adequate time to read all the reports and hear multiple perspectives on an issue. Before being asked to make decisions, board directors should also have the opportunity to fully air their questions and concerns and be given time to challenge proposals.
Best practices encourage boards to have diversity around the boardroom. That doesn't mean that boards should have diversity just for the sake of checking off the right boxes. Having a diverse board is only beneficial for boards that are willing to take full advantage of the fact that they have a diverse board by ensuring they remain engaged.
It helps for boards to recognize that while diversity is part of best practices, it can lead to tension even among the most collegial boards. Healthy board communications will help establish that tension can be a healthy part of board debate. Well-managed conflict can help boards become better balanced in their decision-making. Board directors who are willing to bring forth challenges incite greater insight without creating heated conflicts.
Many boards find that it's helpful to arrange for occasional informal gatherings outside of the boardroom. Informal gatherings present opportunities for board directors to get to know each other better on a personal and professional level. Informal meetings can be set up one-on-one or for a group. Informal get-togethers can take the form of board development seminars or workshops, breakfast meetings, dinners, coffee meetings, or a week-long strategic planning meeting retreat.
BoardEffect Improves Communication Channels
Board portal technology is one of the primary ways that boards of all types and sizes can improve communication. BoardEffect offers high security which is important for dealing with cybersecurity risks, data breaches, and misdirected messages in communication.
We live in a world where we have the good fortune of having communication channels at our fingertips. BoardEffect's platform maintains security for users whether they're communicating via a laptop, smartphone, or tablet. The portal is just as secure for file-sharing of important reports and documents.
Board portal technology gives board directors the opportunity to communicate and collaborate in real-time. The communication features function like all the popular text and email applications that board directors use every day, but since communications can be fully contained inside a secure platform, it reduces the temptation for boards to use less secure workarounds. BoardEffect gives board directors the added benefit of being able to get automatic notifications for unread messages across devices, retract messages, and preset contacts and group messages. Directors also have the benefit of being able to retain messages for compliance or for other important reasons.
The "how" of improving communication isn't always as important as making sure that all board directors are working to improve it. Fortunately, BoardEffect technology brings us several new ways for boards to work on improving communication.